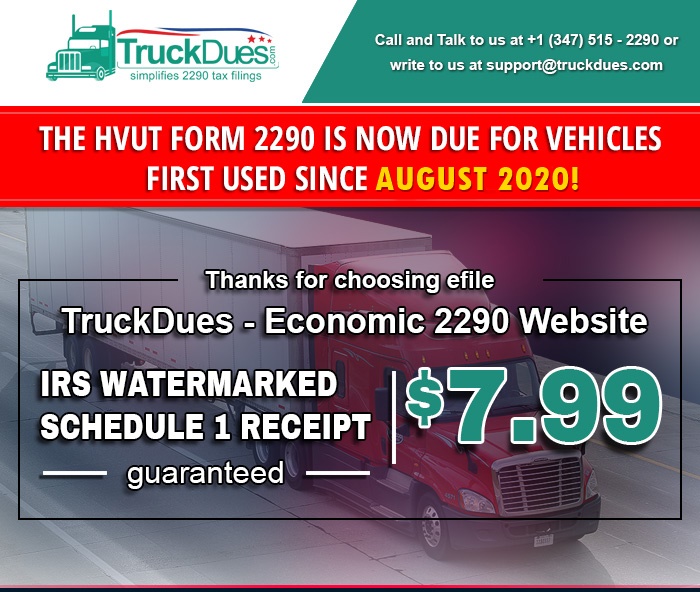 Hello there truckers, Hope you're safe and sound the Pro-rated HVUT Form 2290 is now due by Sept 30, 2020, for vehicles first used since August 2020. This Pro-rated deadline is drafted based on the Federal law that indicates Form 2290 must be filed by the last day of the month following the month of its first use.
If you had purchase/re-purchase any new trucks during August 2020, then you got 60 days before you could file this Form 2290, you generally file this tax form to get your vehicle plates, tags, licenses renewed.
The HVUT Form 2290 is basically an annual tax paid to the Internal Revenue Service which is paid on Heavy trucks which comprises a taxable gross weight of 55000 lbs to the minimum until 75000 lbs & above and if the said truck is used on the public highways for commercial, agricultural & logging purposes.
Now when we talk about pro-rated filing a question that normally arises in our mind is "Should we pay the taxes for the whole year?" Well not necessarily. You will be reporting the vehicle from the first used month till June 30th of the following year, you will be reporting the vehicle on a pro-rated basis and pay the taxes for the remaining months only but not for the whole year.
If any assistance needed with your form 2290 just feel free to reach us at 347-515-2290 or just simply drop an email to support@truckdues.com. Do a hassle-free filing through the simplest website for your form 2290 and get the schedule-1 copy within minutes in your email