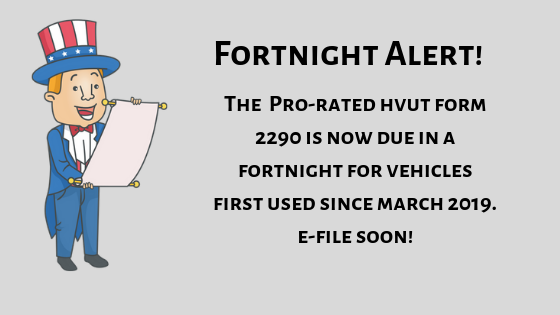 Hello there Truckers, over this article we would like to discuss about the near term HVUT Form 2290 tax deadline, which is due by April 30th, 2019 for vehicles first used since March 2019. As the Federal law indicates that the Form 2290 needs to be filed by the last day of the month following the month of its first use.
Now on this basis, the Pro-rated HVUT Form 2290 is now due for vehicles that are purchased/re-purchased/began its operation since March 2019. However, this pro-rated HVUT Form 2290 has nothing to do with your regular 2290 annual renewals which is basically due by June and payable until the end of August.
E-Filing is economic & fast, besides the most significant feature of e-filing is that it ensures a secured acceptance of your tax return within minutes after you e-file. Receive the IRS digital watermarked copy of schedule 1 back in your registered e-mail address, the same copy will serve you as the legal proof of filing during your vehicle registration purposes at the Department of Motor Vehicle.
We strive you serve the ever hardworking trucking community who hesitates to spare even a single minute towards his/her own needs instead ensures our nation's needs are addressed on time with no delay.
Reach us back for your HVUT Form 2290 filing needs over the following mediums.
Phone: (347) 515-2290 [Monday through Friday, 9 AM to 5 PM Central Standard Time]
Live Chat with us
E-mail us: support@truckdues.com