Shout out to all truckers and trucking taxpayers! IRS is live and processing form 2290 tax reports. So, hurry up and e-file form 2290 HVUT for your December used heavy vehicles. E-file form 2290 online at TruckDues.com to get the instant schedule 1 receipt and continue your trucking business smoothly. The last date to e-file form 2290 HVUT for your December used heavy vehicles or trucks on a pro-rated basis is January 31, 2023. Therefore, truckers and trucking taxpayers must ensure that they report and pay form 2290 truck taxes to the IRS and get the IRS stamped schedule 1 copy on or before the deadline.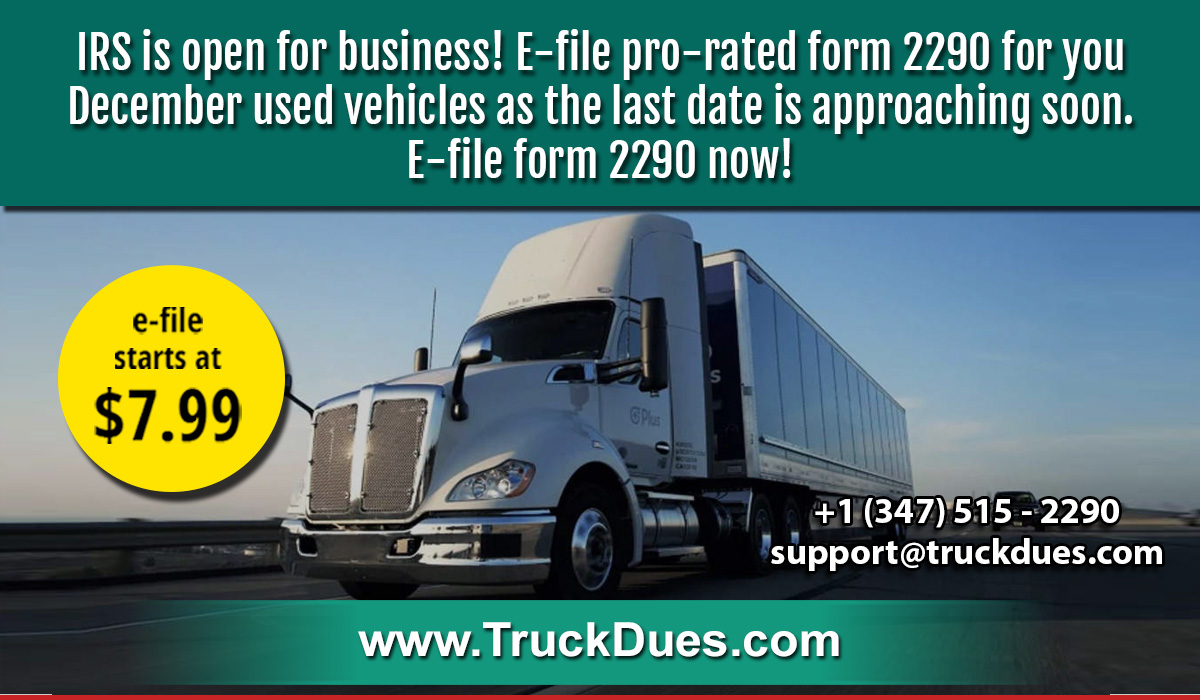 Truckers must have a valid schedule 1 receipt for their trucks.
IRS would charge penalties, late charges, and interests over your tax due amount if you failed to report your truck taxes on time. You must have a valid IRS-stamped schedule 1 receipt for your heavy vehicle or trucks for other official processes like insurance, registration, license renewal, etc. Also, you might run into trouble with authorities for operating the heavy vehicle without proper schedule 1 receipt, leading to suspension of license and other severe actions from the authorities. Therefore, every trucker must understand the importance of the stamped schedule 1 receipt and get the proper receipt and acknowledgment from the IRS before the deadline. TruckDues.com offers convenient online, paperless form 2290 e-filing where you can get the instant schedule 1 receipt from the IRS straight to your email.
Estimate your vehicle's pro-rated truck taxes based on its first used month.
The pro-rated form 2290 HVUT is due for the December used heavy vehicle by the end of this month. Truckers must stay ahead of the deadline, e-file form 2290 on time, and get the schedule 1 receipt from the IRS before the time ends. You must estimate pro-rated form 2290 taxes from December to the end of the current tax period, which is June 2023. So, you need to calculate the tax amount from December 2022 to June 2023 and report form 2290 accordingly for your taxable heavy vehicles. If your heavy vehicle or truck falls into the tax-suspended category, you must report the taxes to get the stamped schedule 1 copy and need not pay the 2290 tax amount for your vehicle.
E-file form 2290 pro-rated truck taxes in TruckDues.com!
TruckDues.com is an IRS-approved modern e-filing service provider for form 2290 HVUT. We provide easy and accurate form 2290 e-filing online with the best technology and customer support. You can avail of our attractive features that aid you to e-file form 2290 smoothly and accurately. You can also download TruckDues.com mobile application from Google Playstore and iOS app store to e-file form 2290 through your smartphones and tablet devices. You can register for free at TruckDues.com and e-file form 2290 at pocket-friendly prices. Form 2290 e-filing starts at just $7.99 for single-vehicle returns. So, e-file form 2290 pro-rated taxes and get the schedule 1 copy instantly to avoid penalties from the IRS. You can contact our customer support at 347 – 515 – 2290 for assistance and queries on e-filing form 2290 at TruckDues.com.