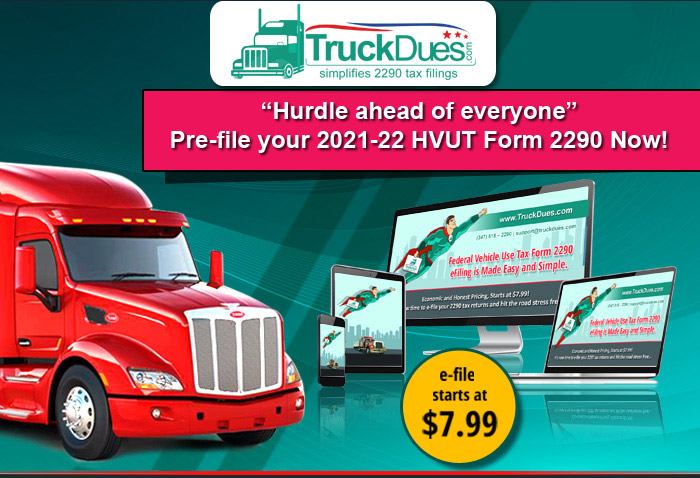 Fellow truckers it's time to prepare to file your taxes for the upcoming tax year July 2021- June 2022. The tax filing season starts by 1st July and Hope you've got everything prepared. If not we are here to assist you.  We are also ready to process your returns and equipped with full-scale staffing at your disposal. But why the rush so soon? Well there are more than 3.5 million truckers on road and hence for keeping our customers up in the line we are accepting forms for the upcoming tax war, (LOL) starting today
The Pre-filed tax returns basically holds a priority within it by default when compared to a regular Form 2290. The IRS online servers would always process tax returns based on First Come First Served Basis. Hence, the Pre-filed tax return reaches the IRS servers sooner than the other tax returns hence in turn receives an expedited amongst other regularly filed tax returns.
There are certain things to remember to do a perfect tax filing. So here are some seeds of wisdom to keep in mind while filing you tax returns
What is Form 2290? For all the first time filers this is the form that is used to report you heavy vehicle and pay the taxes. On submission of this form you would receive a watermarked Schedule-1 stamp copy which would serve as proof of filing as well as a proof to report your Vehicle to the DMV (Department of Motor Vehicle) for new trucks as well as renewal of your old trucks
All you need to have is the VIN number a valid EIN number (more than 15 days since applied) and you good to go. These two things are to be entered correctly to avoid rejections or corrections which would incur you to spend more
How to determine whether you vehicle is taxable? Well do you have a heavy vehicle and have plans to operate over 5,000 miles (7,500 for agricultural vehicles) and the total Gross weight (Sum of Tractor, load and trailer weights) is 55,000 lbs or more? Then your vehicle is subjected to Federal taxes. The taxes are paid in advance for the whole year. Any heavy vehicles under the above mentioned are considered to be "Suspended Vehicles" meaning it's exempt from taxes.
VIN Number: The VIN number or The Vehicle Identification Number is a unique code given to every vehicle which is of 17 Digit Alpha- Numeric characters. No two VIN numbers for any vehicles are of same. This is used to identify a specific vehicle in case of tax reporting or theft of vehicle.
The VIN number doesn't contain the Characters such as "I, O & Q" in it. So while filing your tax returns make sure you keep this in mind. Else you might have to correct the form right away to evade tax penalties.
And the most common step which some users fail to do it transmit the return to the IRS. Users normally file the tax returns pay the service free and move till the payment conformation page. But you have to go all the way till the last page after service fee payment where you could see a Red Box saying "Transmit to IRS". Click that red button and your returns will be transmitted instantly and you will receive the Schedule-1 copy with stamped water mark on it indicating the filing was done successfully to your registered email within 30 minutes
While e-filing your HVUT Form 2290, be sure to use your Employer Identification Number over a Social Security Number since the IRS e-file servers will validate e-filed tax returns with EIN but not SSN. Having said that the EIN you tend to use must be at least 15 business days older before its usage over e-filing application.
So these are all the small things that you need to be aware of while filing your tax returns. So why wait you also have an option to pre-file your tax returns by June and receive the Schedule-1 copy by the first week of July. Stay ahead of all the truckers and hit the roads with peace For further information please call us at 347-515-2290 or simply drop an email to support@truckdues.com with your questions relating to your form 2290 or you may chat with our representatives live as well. Don't have a laptop or a computer to do all these we are now available on mobile platforms for both IOS and android Just search for TRUCKDUES and you can file your 2290s on the go!