Dear truckers! Truckdues.com thanks you again for making this form 2290 tax filing season an incredible success. We hope you have successfully filed your form 2290 truck tax reports and paid your tax dues to the IRS. If you entered the incorrect VIN of your heavy vehicle while e-filing form 2290 HVUT at TruckDues.com and got your schedule 1 receipt from the IRS, you don't have to worry about this. TruckDues.com offers a free VIN correction service where you can apply for VIN correction online, absolutely free of cost. You can e-file for form 2290 VIN corrections at TruckDues.com and get the revised schedule 1 receipt to your email within a few minutes.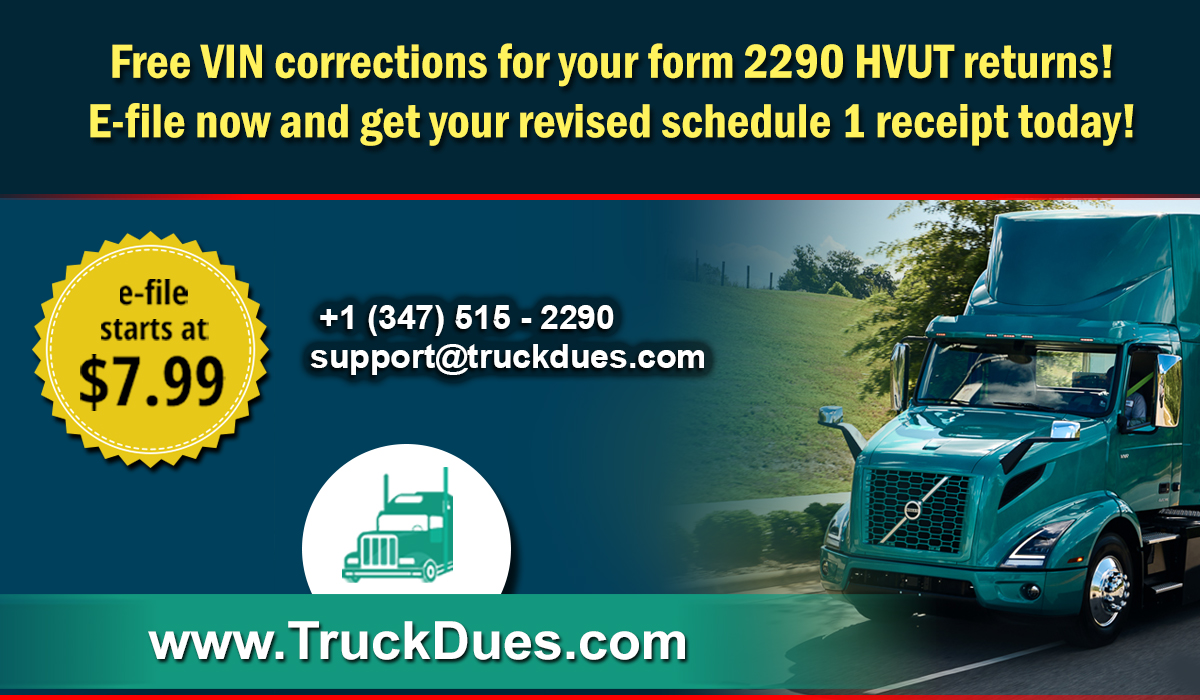 Purpose of VIN
VIN serves as a unique identification for your heavy vehicle. IRS identifies your heavy vehicle or truck only though its VIN for all form 2290 HVUT relates processes, record keeping, maintenance and other tax management. Also, a VIN number is essential for other legal processes like vehicle registration, license renewal, insurance, regular checking and IRS audits. And these bodies verify your heavy vehicle/truck based on the schedule 1 receipt you have as proof of form 2290 HVUT returns payment. Therefore, you must have a proper schedule 1 receipt for your truck, and it should contain the accurate VIN of your truck. Otherwise, you will run into trouble with the authorities, and you will be severely fined for having a schedule 1 receipt with an incorrect VIN.
Get FREE VIN CORRECTION at TruckDues.com!
We all know the importance of having an accurate VIN in the schedule 1 receipt of our heavy vehicles/trucks. Therefore, TruckDues.com offers this essential VIN correction service for our beloved truckers and customers for free of cost. You could avail of our free VIN correction services if you had already e-filed your form 2290 truck tax returns at TruckDues.com. Otherwise, you must pay a small service fee of $9.99 to e-file form 2290 VIN corrections at TruckDues.com. Once you e-file form 2290 VIN corrections, IRS will process your request, and you will receive the revised IRS digitally stamped schedule 1 receipt within a few minutes to your registered email address.
Contact our customer executive at 347-515-2290 for all your form 2290 VIN corrections queries. They are available at your service on all working days from 8 AM to 6 PM EST. Also, you can write your queries to support@truckdues.com, and we will reply to you as soon as possible.