The American Trucking industry is delivering the most essential service for the nation, lot of businesses rely on it for their everyday operations. The for-hire carriers and private carriers make up most of the nation's trucking companies. Truckers were doing incredible efforts at the forefront. Wish they Stay Safe and Keep on Trucking!
Truck Tax Form 2290 filing period is around the corner, from July 1, 2021 the Heavy Highway Vehicle Use Tax returns has to be reported and paid. This is a yearly tax covering the 12 months period from July 1, 2021 through June 30, 2022. Electronic filing is the best way to report this 2290 taxes with the IRS and pay online, by yourself and with pocket friendly service like TruckDues.com. Start today, it is as easy as 1-2-3!
TruckDues is for those who wants to keep their heavy vehicle tax compliance intact, July is the month the vehicle is first operated for the 2290 tax year and the HVUT taxes has to be paid with the IRS. The IRS Watermarked Schedule 1 receipt proof is important to renew your vehicle registration with the federal agencies, renew license plats and tags.
New to 2290 Tax eFiling with TruckDues!
If you're new to e filing 2290 tax returns at TruckDues, it is the easiest process of completing the 2290 tax returns with the IRS for the new tax period 2021 – 22. Receive the IRS watermarked Schedule 1 receipt proof instantly once IRS completes processing 2290 returns. Be a early birds and "hurdle ahead of everyone" to report and pay the HVUT returns with the IRS.
Duplicate or Reuse a Previously Reported 2290 Tax Return
Truckdues bring you a new and a much needed feature that helps you to duplicate or Reuse a previously reported 2290 tax return as a new return with all the tax data imported from it for the current tax period 2021 -22. No need to go through the entire process to create a new 2290 tax return when you haven't changed any of your tax data from previous tax return. Reuse of a tax return save more time!
2290 Tax Payment
The 2290 returns that are efiled will with the IRS can pay these tax dues online. 2290 payments are made easy and safe at TruckDues. You could choose to pay using your Direct Debit or Electronic Funds Withdrawal you no need to worry about it. The IRS would be able to directly debit your bank account while processing the tax return. If you choose to pay using EFTPS, then schedule a payment after you receive the Schedule 1 receipt in your email. By using a credit or debit card or you can make the payments upon receiving the Schedule 1 receipt from the IRS. You may also choose check payment and mail the check with a copy of this accepted Schedule 1.
2290 Tax Call Support, Email and LIVE Chat support
You made the right choice to electronically report and pay your 2290 tax returns at TruckDues. The best thing is you're with TruckDues the most trusted e file provider and used by Owner Operators and Carrier Owner. We make 2290 efile affordable to every trucker, you're leading towards recovery of this wonderful country out of the hard hit pandemic supplying the essentials. We're just a phone call away, you can reach us through email and in a live chat from the website. We're committed to you and very happy to be part of the Trucking Industry serving the American Truckers, who keeps us busy and moving our country forward.
Happy Form 2290 eFiling at TruckDues!
---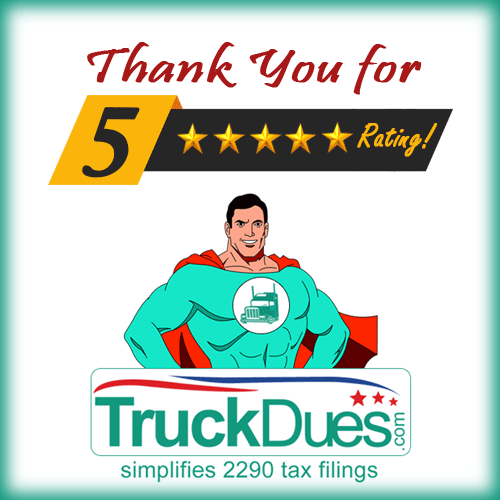 TruckDues is Top Rated with 5-Star Rating by the actual Trucker themselves. Check out our rating in Google and in Trustpilot. Form 2290 eFile is the best at TruckDues.com!
HVUT Form 2290 efile is just $7.99 and the lowest in the market. We strive to bring efile to every truckers door step.
---