Hello, truckers! The new tax season, 2022-2023, has started, and truckers are filing their form 2290 truck tax reports to the IRS. The deadline to complete filing your 2290 truck tax returns to the IRS is August 31, 2022. So, we request the truckers not to wait until the due date to file your form 2290 truck taxes. E-file it at TruckDues.com and get the IRS official schedule 1 copy today.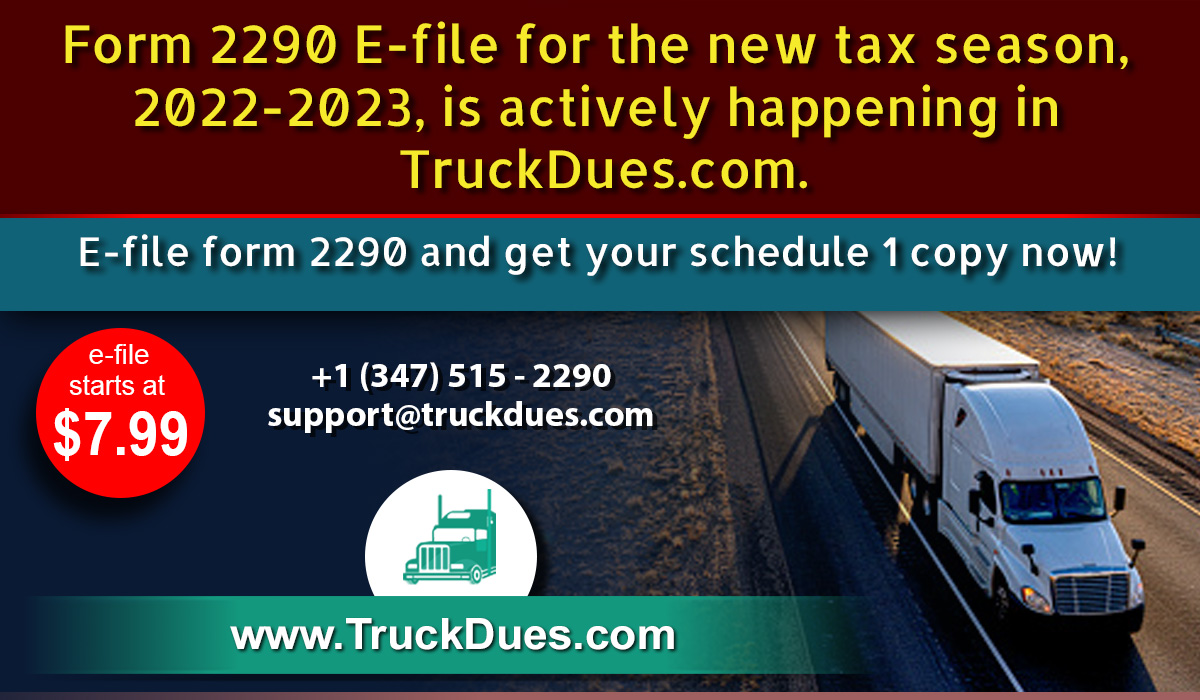 E-file Form 2290 at TruckDues.com today!
TruckDues.com is an IRS-approved modernized online form 2290 e-filing service provider. Truckdues.com offers a convenient online solution that stands out from the conventional paper filing methods. You can easily e-file form 2290 online in a few steps and transmit it to the IRS. Then, the IRS will process your form 2290 tax returns and send your schedule 1 copy directly to your email address. You can complete this entire process and get the schedule 1 copy in a few minutes. Form 2290 e-filing is simple, accurate, and quick at TruckDues.com. You can benefit greatly from e-filing your truck taxes with us. Your days of paper filing the form 2290 by directly visiting the IRS office, waiting in line, filing, and still waiting for a few weeks to finally get the IRS stamped schedule 1 copy through the mail. Register at TruckDues.com and begin your form 2290 e-file today.
The deadline is approaching soon!
We want to remind you the tax season is upon us, and you should report your form 2290 truck taxes to the IRS before the time runs out. You can begin e-filing form 2290 online at TruckDues.com right away by accessing our web platform using your PC or laptop. Or you can download our mobile application and begin your form 2290 e-file now. We have TruckDues mobile app for both Android users and I iPhone users. TruckDues.com is available across the web and mobile platforms, and is available 24/7. You can e-file form 2290 online from the comfort of your home or office or anywhere you like. Once you transmit your form 2290 to the IRS, you will instantly get the schedule 1 copy to your email. You can print and use it for all legal purposes, insurance, registration, renewals, etc.
You can contact our customer executive at 347-515-2290 for all your form 2290 e-filing-related queries. They are available at your service on all working days from 8 AM to 6 PM EST. Also, you can write your queries to support@truckdues.com, and we will reply to you as soon as possible.