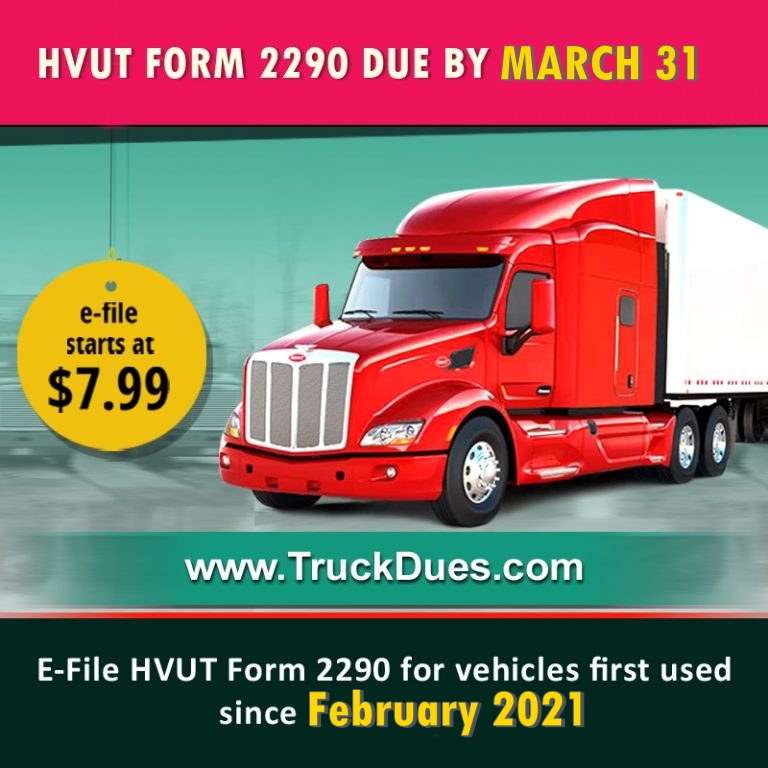 Dear HVUT filers, the HVUT Form 2290 is now due for a renewal for the Trucks first used since February 01 2021 Period beginning July 1, 2020 through June 30, 2021. Thousands of truckers have e-renewed their HVUT Form 2290 for the current period already. So act before it's too late to join the e-filer club and receive the IRS digital watermarked copy of schedule 1 as soon as possible.
In this blog lets refresh who should file a 2290 and how the taxes are calculated. There are two important factors that needs to taken into consideration while declaring your truck under a form 2290. Its based on the number of miles driven and the total gross weight of the vehicle
The HVUT Form 2290 is generally due by June and its payable until the end of August. The Form 2290 is basically paid on heavy vehicles with a minimum gross weight of 55000 lbs and the same is been used on the public highways for commercial, Agricultural & logging purposes. The taxes are determined by the taxable gross weight of the vehicle as it begins with 55000 lbs represented by Category A and it goes until over 75000 lbs represented by category V.
As per the IRS guidelines, the tax rate begins at $100 and there will be an increase of $22 for every increase of 1000 lbs. For logging vehicles, there is a slight concession on the tax due for logging based units as the tax due rate begins from $17, hence the annual tax due amount paid for a commercial based unit is $550 whereas the maximum tax due amount paid for logging vehicles is $412.50
Every year, the tax due amount is paid full in advance to the Internal Revenue Service based on the fact if the vehicle is going to be used over 5000 miles for commercial & 7500 miles for Agricultural based units. Having said that, the Form 2290 is pro-rated as the tax deadline for the new vehicles happens to be the last day of the month following the month of its first use.
So, Saddle up your bags & pay your HVUT Form 2290 and receive the IRS digital watermarked copy of schedule 1 in your e-mail. For further assistance you may reach us back @ (347) 515-2290 or simply drop a email to support@truckdues.com