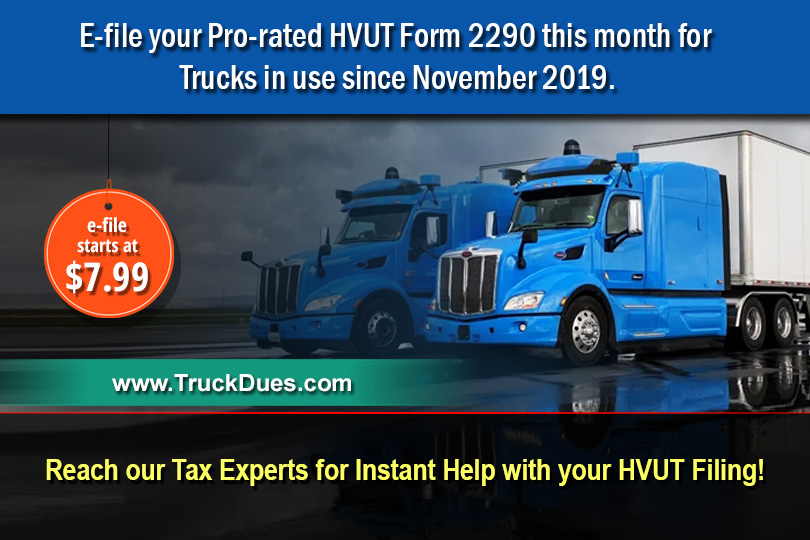 Truckers are you wondering whether to pay the taxes for the whole year or if that could be partial. Often assumptions lead to confusion with the tax deadlines and on the tax due amount part. The IRS Federal law indicates that "All heavy vehicles operated on the high way with a gross weight of 55,000 lbs or above and with a mileage of 5,000 miles (7,500 miles for agricultural vehicle) is taxable".
The Prorated tax concept is basically calculated from the month of the vehicle's first use. That being said the payment date would be your next question. Well, as per the IRS the "Prorated taxes are to be paid by the last date of the month following the month in which it was first used". So the taxes for the vehicles bought by November is NOW due and the deadline to pay with no penalties would be 31st Dec, 2019.
What will you possibly incur if you don't pay the 2290 tax dues on time? Well that's simple, the IRS will charges a fee for failure to file and failure to pay at a rate of 4.5% and a penalty of 0.5% of the taxable amount. So think twice before you fall behind your HVUT Form 2290 Deadline.
Here at TruckDues.com this process is made simple and tax calculations are done automatically such that the website itself will do the math and notify you the computation. This will help you in saving your valuable time amidst off your busy on road schedule.
So what are you waiting for? Rush now just log into TruckDues.com to e-file your Pro-rated HVUT Form 2290. You are just few clicks away from being able to transmit the return to the IRS and receive the watermarked copy of Form 2290 schedule-1 to your registered email address.