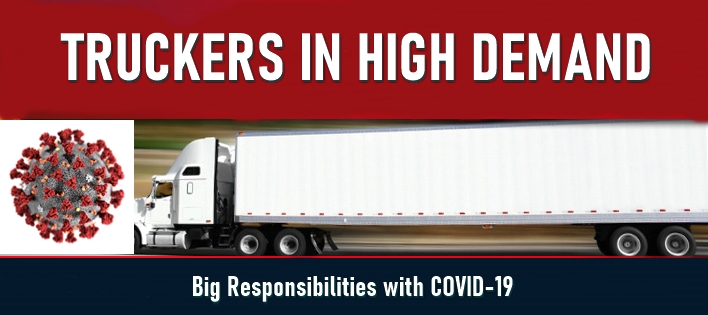 Let the comic icons do the saving in the imaginary realm it's you who are actual and real-time heroes. To all our dear truckers who are working day and night to deliver the supplies and still keep the nation on its foot. You guys are our only hope and as our nation depends on you. We extend a heart full of love and life full of gratitude to all those personnel who are working 24/7 amidst the pandemic coronavirus outbreak. It's the hard times that bring us together let's be safe and get through this together.
More than 1,000 deaths in the United States have now been linked to the coronavirus, a figure that continues to rise as thousands of new cases are reported each day. As of Thursday afternoon, at least 75,178 people across every state, plus Washington, D.C., and three U.S. territories, have tested positive for the virus and it is still spreading. On the other hand, the number of affected people in China is getting lesser and lesser as days pass by and at one point last week the reported cases were zero. This is a sign of hope that people can recover from the infectious virus. As per the official statement by the government, they have successfully started to implement the vaccines in humans to study in bringing down this virus spread to a halt.
Keep yourself sanitized by washing your hands often or by applying hand sanitizers to keep the germs away. Make sure you don't touch your face often without sanitizing yourself since the virus doesn't show any symptoms for at least a week and taking small measures like these would keep you from infecting yourself and others. Let us all hope to walk through this darkest hour and pray for the best to happen. We would also like to inform all our customers that we are self-quarantined and safe working remotely to keep our customers assisted when needed.
For any assistance relating to your Form 2290 kindly feel free to reach us at 347-515-2290 or drop an email to support@truckdues.com. We also have our chat lines open for immediate assistance. At this moment we would also like to remind you about the due date for filing the taxes on new trucks purchased by February. Though the government has seemed to extend the deadline for filing your taxes no official confirmation has been given regarding the 2290 filings. It's always safer to file your taxes on time. Since the whole nation is locked down it's best advised to e-file your taxes staying at home. Be safe Dear truckers we bow our heads down for your efforts!